You know that managing the project itself is the toughest task for all stakeholders. It depends upon how we are utilizing our team well effectively from sitting our location. COVID-19 has changed how we work and our outworking atmosphere, when it comes to project management for all project managers and PMO teams it will be a different set of mindsets to overcome. Here, in this case, we have to rethink from the present location to remote and also integrated team working styles as well as necessary tools which are required for that.
The tools users in PMO:
Project Managers (Project Review),

Internal Employees (Task Management, etc.),

External Collaborators (Project Documentation) and

Project Office Manager (project Portfolio Overview).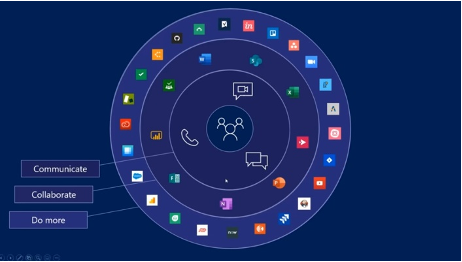 When choosing the right tools, it's the same as it is when we are shopping. We would like to test the tools first, and then find out what works and what doesn't. We don't expect to ever find a 100% match. We also know that we are not able to create such a program by ourselves. And even when we get close to perfect tools match, we don't expect to use these tools forever. Therefore, when choosing, we focus on the needs of users. What we all have in common is that we are discussing a lot in meetings. Nowadays, the Microsoft Teams tool is the most widespread and also refined in terms of effective management of meetings and content following that meetings. Teams encompasses a mindset: teams first, through effective collaboration between team members.
Teams are not just video conferencing tools. Free self-education on the benefits of Teams is available on the YouTube channel. With the help of education, users can quickly find ways to simplify and speed up their work. In this way, the user can get the feeling that his work is worth more. Let's present a few use cases. When creating a new team in Teams, the project manager can define a user template (e.g., medical care) that will create the necessary communication channels and add the right tools on its own, which means a quick set-up. It is also great to use a calendar bot that scans the schedules of all team members and almost immediately suggests three free appointments. A wide range of task management applications is available to internal collaborators, who perform work. Applications can be integrated into Teams, e.g., Wrike, Jira, Asana, Trello,
Teams' users no longer need to open individual applications of Microsoft Office 365, SharePoint, Confluence, etc. so often, and are thus less exposed to the bad consequences of multitasking: the feeling of switching, loss of time, opacity, etc. The license model, which is paid as a subscription to services, based on includes the rental of the number of work environments (project offices), employees (external or internal), the amount of space, with all additional features included. The rental price needs to be compared to the price of individual licenses, in the cloud or on-premise. If users in the company use a large number of different applications, it is right to enable them and not restrict them, if necessary.
Suppose for example that Teams gives us everything we need. However, you would like to get rid of some licenses, due to cutting costs, like SharePoint. SharePoint enables document sharing and group conversations, which are key collaboration features. It is worth mentioning that SharePoint runs in the background, just like Microsoft Outlook and others, and in fact it does not even need to be opened. Explicitly, however, links to directly access the document on SharePoint are available. With restricting SharePoint, Teams can thus quickly become useful just as a video conferencing tool. So quickly we can fall into the realm of the bad consequences of multitasking.
Reporting is also a very important part of doing business. Good reporting, available at all times, can save the lives of many projects. Power Automate is an example of an application that automates repetitive work tasks. It is not possible to automate everything, but it is possible to agree in advance what we can offer when reporting and what we cannot.
At the project office level, project and program portfolio management is very important. Just as the project life cycle is important for the project manager, so are the project and program portfolio management processes important for the project office, for example:
Change Control Management: Identifying and prioritizing change requests. These can be feature requests, operational constraints, regulatory etc. based on demand, financial and operational constraints.
Risk Management: Identifying risks in projects that make up the portfolio, and developing contingencies and risk response plans in order to mitigate uncertainty within the project portfolio
Financial Management: Managing financial resources related to the projects in the portfolio ad demonstrating financial value of the portfolio in relation to organizational strategy goals and objectives.
Pipeline Management: Ensuring project proposals are in the pipeline and determining if they're worth executing
Resource Management: Efficiently and effectively using an organization's resources, from materials and equipment to people and technical skills
Above all, it is important that any obstacles are detected quickly. An example of displaying the full status and statuses of a project is shown in the PPM Express application: ppm.express
We know that the method of monitoring the projects remotely or on-site may differ from organization to organization. Which right tools we are using for that, is the important thing. Trello digital board is one of the best ones now almost all people are using as project management task board or otherwise we can as a "Kanban board" across the organization to increase the productivity. Kanban is micromanagement as well as a workflow management method for defining, managing, and improving work tasks. Through Kanban you can track visualize your work, maximize efficiency, and improve continuously, through this we can avoid the delays in the works parallelly we can increase the team productivity. Kanban board is a project management tool to visualize the works, specific tasks, and commitment and delivery points among the team across the organization. Through we can consider how your workflows, how we work done by using simple board
Remote team monitoring through Digital Kanban board should consider this:
We can use Kanban board physically and digitally as per the convivence
Digital board are more favorable for remote monitoring access rather than physical board. Each team members can give separately the access to work together.
Working in digital board is fun and make everyone atmosphere more productive and every can dedicate their progress
The choice of tools for use in the project management office is important, so enough time should be invested into it, to test them and later convince users of its usefulness, further education and use.
Author: Marjana Skubic, M.Sc., PMP® | LinkedIn

Co Author: Mahesh EV (PMP®,PRINCE2®,ASM®,CSPM ,CSAPM ,BVOPM™,LSS-BB)| LinkedIn
Reference Link:
YouTube: https://youtu.be/icxukkYZR1c
Website: ppm.express